If you live outside of San Francisco: your protections may be different. See the Anti-Eviction Mapping Project's map of updated protections across the US here or this Columbia Law list here, and the Coronavirus Resource Guide developed by Tenants Together for California renters.
San Francisco Tenants: if you can't pay rent right now, you are not alone. Please reach out to a tenant rights group if you do not plan to pay your rent this month! Click here to connect to organizing for a just recovery.
→ SAMPLE LETTER FOR NON-PAYMENT OF RENT HERE (PDF) (DOC)
SAN FRANCISCO EVICTION MORATORIUM FAQs:
On March 13, 2020, Mayor London Breed signed a temporary moratorium on non-payment evictions due to hardships caused by COVID-19. She has since released multiple updates to the order, extending the moratorium to most kinds of evictions, providing an automatic extension for payment of rent in cases of hardship, and banning most rent increases. Find a full list of links to moratorium updates on the SF Rent Board website.

In June, the Board of Supervisors passed an ordinance that permanently bans evictions for rent debt accrued during the Governor's Executive Order on evictions (currently in effect through 9.30.2020, unless extended), even if a tenant cannot pay at the end of the automatic extension period outlined in the Mayor's order. This does not eliminate the obligation to pay back rent but treats unpaid rent like other consumer debt.
The City has developed binding Rules and Regulations, which could also change in the future, as legislation passes or the Mayor releases new updates. See this website for a simple summary of the regulations and access to information in Spanish, Chinese, and Filipino.
TIMELINE OF PROTECTIONS: The moratorium is a patchwork of different protections, all expiring at different times. You can see a visual timeline here, or some key dates are below: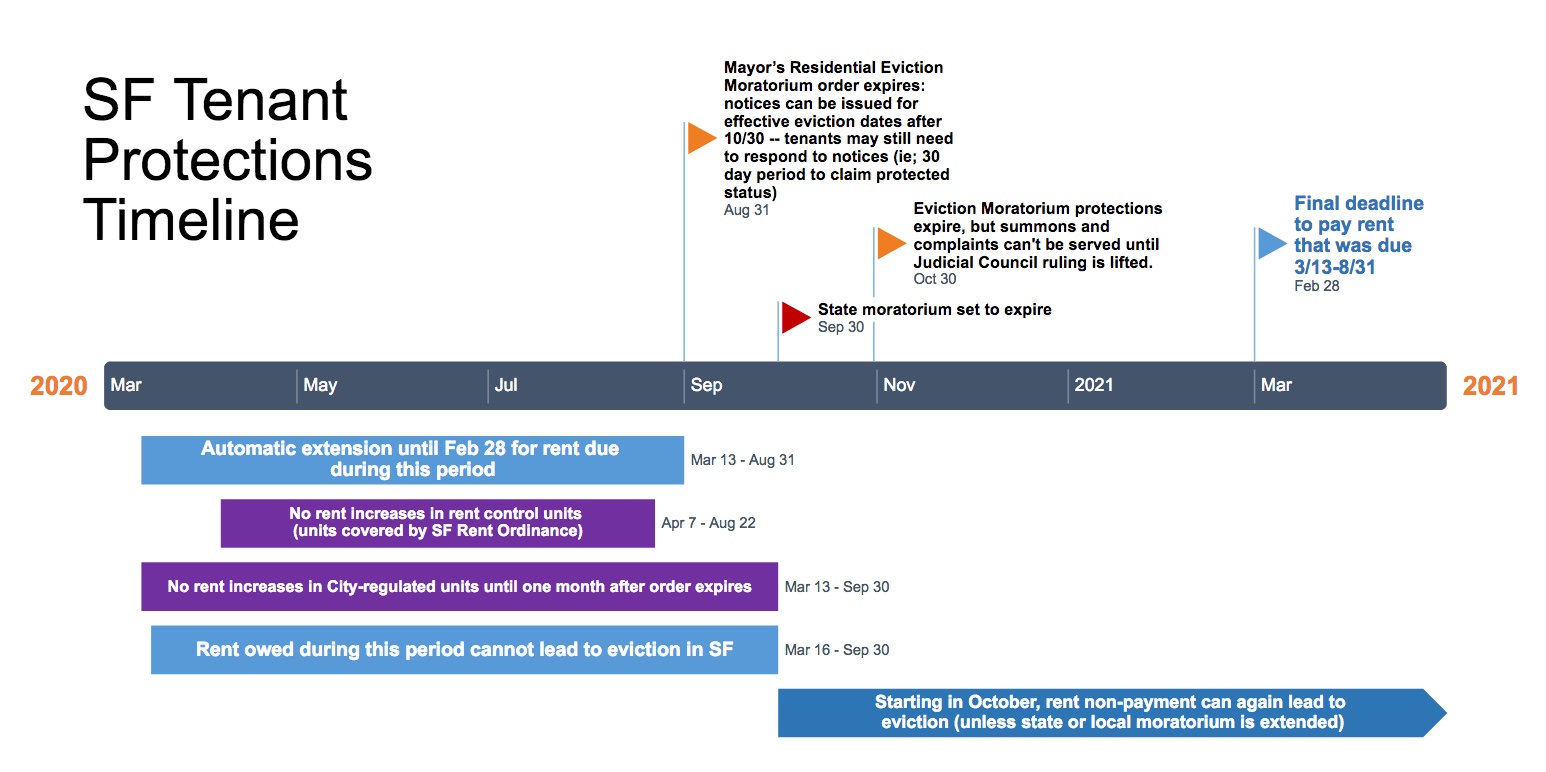 March 13- August 31: Automatic extension for missed rent payments due to COVID-19 related hardship. Rent from this period is due no later than February 28, 2020 (6 months after the Mayor's emergency order expires).
March 13- September 30: Freeze on rent increases in City-regulated units expires one month after the Mayor's order expires.
March 16-September 30: Rent owed during this period cannot lead to eviction. This is the period covered by local COVID-19 Tenant Protections, based on the span of the Governor's Executive Orders (N-28-20 and N-66-20), which could be extended. For most tenants, this means April-September rent is covered and no late fees or interest can be charged during this time.
April 7- August 22: Freeze on rent increases in rent-controlled units.
August 31: Mayor's order expires, ending the automatic extension for missed rent payments and starting the clock on 1) the expiration of the eviction protections (60 days after expiration), and 2) the final due day for rent missed during the time the order was in place (6 months after expiration of the order). At this point, tenants may start getting notices for no-fault evictions (like Owner Move-ins) where the effective move-out date is after 10/30/2020.
October 30, 2020: Eviction Moratorium protections expire (60 days after Mayor's order expires). This means that landlords can now initiate eviction proceedings for matters other than those related to health and safety (which were always allowed). Nonetheless, a summons may still not be able to be issued in these cases because the Judicial Council emergency rules don't expire until 90 days after the Governor lifts the state of emergency or when they repeal it. That means you might get a notice that a complaint was filed, but the action on the case won't begin until you get a Summons and Complaint.
February 28, 2021: Final deadline to pay rent that was due March 13- August 31. If you cannot pay back the rent at this point, you cannot be evicted, but your landlord can collect the debt like other consumer debt.
Q: WHO IS PROTECTED BY THE EVICTION MORATORIUM?
A: The rules apply to most rental housing in San Francisco, including:
• Units not covered by rent control, like single-family homes and those built after 1979.
• BMRs and other units where the rent is regulated by the Mayor's Office of Housing and Community Development or the Department of Homelessness and Supportive Housing
• Sub-tenants are also protected, as are people with a Section 8 voucher, and those renting illegal or unpermitted units, garages, and single rooms
• Residential tenants in SROs are covered even if you have been in the unit for less than 32 days.
• You are protected regardless of your immigration status.
You are not protected by the moratorium if you rent room in the same unit as your landlord and you are the only tenant, or you live in a tourist hotel room (see protections for tourist rooms here), a hospital, convent, or residential care facility, or a school dorm.
**Public and subsidized housing tenants: The eviction moratorium applies, but the rent delay portion does not. The Federal CARES Act is a partial eviction moratorium that prohibits eviction filings for non-payment of rent or the charging of late fees between March 27 and July 24, 2020. For more information, see the National Housing Law Project's detailed summary here, or the Consumer Finance Protection Bureau's page on Protections for Renters.
Q: WHAT KINDS OF EVICTIONS ARE COVERED?
A: Most evictions cannot be executed right now or within 60 days after the emergency declaration has ended. Right now, that means the moratorium is effective until October 30, 2020.
The temporary ban on evictions does not apply:
• To the Ellis Act (unless an Ellis waiver is passed by the Governor or State Legislature).
• If the eviction is related to violence, threats of violence or health and safety issues. If you are served with a summons and complaint for a case based on public safety, you have 5 business days to file an answer, so you should contact the Eviction Defense Collaborative right away.
If an eviction notice is served during this time, the landlord must attach the new Rent Board form, titled "Notice to Tenant Regarding the Existence of a Temporary Eviction Moratorium due to COVID-19" to the eviction notice.
Q: I CANNOT PAY MY RENT. WHAT SHOULD I DO?
A: The current moratorium creates an automatic extension to pay your rent if you cannot pay due to a loss of income or increased expenses related to the crisis. We suggest that you send a letter to your landlord when rent is due and explain specifically how COVID-19 has impacted your income. SAMPLE LETTER HERE (PDF) (DOC). Save a copy of this letter!
While you are not required to provide any proof to your landlord that your inability to pay rent is tied to COVID-19, it is a good idea to collect records documenting this in case you need to defend yourself in housing court. Some example documentation includes a notice from an employer that cut your hours or laid you off, a doctor's bill or diagnosis, an unemployment check, a letter from your childcare provider showing that they have closed, or other record that shows your situation has changed.
You will have until February 28, 2020 to pay the rent back. If you do not pay the full amount by the deadline, your landlord may attempt to collect rent through small claims court or another debt collection process. The COVID-19 Tenant Protections passed in June prohibit evictions for April-September rent.
Q: DO I HAVE TO PAY LATE FEES?
A: No. You cannot be charged late fees or interest on missed rent payments due between March 13 and September 30. Additionally, the moratorium applies to all monies due to landlords, including late fees, interest, money due under stipulations or payment plans, or failure to replenish or increase security deposits.
Q: AM I PROTECTED IF I CAN'T PAY MY OCTOBER RENT?
A: Not right now. The rent extension only covers rent due between March 13 and August 31, 2020 and gives you until 6 months after the moratorium is lifted (currently February 28, 2021) to pay back the rent owed. Rent due after August 31 is not currently covered by the automatic extension, unless more protections are passed by the Board of Supervisors or an extension is issued by the Mayor.
It is important to specify on the memo line in your rent checks which month your rent is covering. This prevents your landlord from, for example, applying your October rent to your May rent debt and then claiming that you did not pay your October rent, which could result in your eviction.
Q: DO I HAVE TO PAY THE RENT BACK?
A: Yes. The current moratorium is a delay in rent payment for up to 6 months after the order expires (February 28), but it does not waive the rent. A new local ordinance ensures that you cannot be evicted for rent covered by the Governor's emergency order-- for most people, that means April-September rent (unless extended) that could not be paid because of a loss of income or increased expenses due to Coronavirus. But this protection from eviction is not the same as rent cancellation, and your landlord can try to recover the money through the small claims or debt collection. We are joining groups from around the state and country to call for full rent cancellation, and we will keep fighting to ensure that this recovery is not on our backs! Join us!
Q: MY LANDLORD WANTS ME TO PROVE HARDSHIP OR SIGN PAYMENT PLAN RIGHT NOW. WHAT SHOULD I DO?
A: Do not sign anything, including a payment plan or forbearance agreement, until you have spoken to tenant counselor! Some landlords and attorneys are sending false and intimidating letters right now or demanding that tenants show bank statements or cash out retirement plans to pay rent. You do not have to do this.


Q: CAN MY LANDLORD INCREASE MY RENT RIGHT NOW?
A: There is a temporary freeze on rent increases for many units. If you live in a city-regulated unit. your rent cannot be increased until one month after the moratorium expires, or September 30. If you are a tenant in a rent control unit (usually buildings built before June 1979 and not subsidized), your landlord cannot increase your rent between April 7 and August 22. If you have paid a rent increase that became effective during these dates, you may ask your landlord for a refund. This freeze applies to capital improvements or utilities and bond passthroughs, as well as increases due to increased operating expenses. It does not apply to Costa-Hawkins increases or increases because you lost a 1.21 petition (ie; your apartment is not your principal place of residence).
---